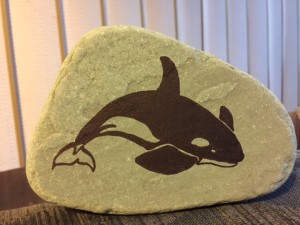 Each Animal Totem rock is individually handmade by me with Love and intent. They are freehand drawn and therefore, are unique and flow with the character of the rock.
Each is just $15 cash preferred, with $5 being donated to a charity that conscientiously cares for this beautiful earth and our wild animal friends that guide us every day. Anything lovingly offered over that will also be donated.
Special orders are being accepted. Patience is required as I can't guarantee when I can complete them based on my time to make them as well as how many are waiting to be made.
All Animal Totem rocks are created by me & transactions are made directly with me. I do have a full album of completed rocks that are available on Facebook.  Click on the Facebook page and link on this website.
Though they are sealed, they are for indoor use only and should not be kept in direct sunlight. Most are the size of the palm of your hand, some are larger, some smaller. Pricing may vary on custom or larger rocks.
I put more in to these than most will understand but they are a work of true Love. These are the ones that speak to us, guide us, & know us. I feel all that as they create themselves on these stones. I simply hold the pen. The power is in the stone and the Spirit animal….they choose our path of unfolding…may they bless those that choose them or whom they choose.
Thank you and Blessings,
Karen
(I do make non-Animal rocks as well, for example lotus or moon, but the main focus is on Animal totems!)
The pictures on this page are just a few examples of the 70 + (and counting) rocks I've created so far! Not all are available.