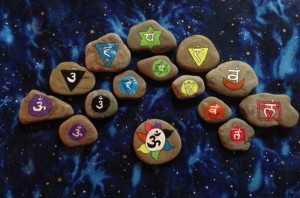 Karen collected the rocks along the shores of Lake Ontario, hand painted each while focusing the clearing energy of the 7 chakras and then once completed, charged them with healing energy.  She created each set mindful of the person that would be using it.
The stones may be used during a healing session, placed between mattress and box spring, or anywhere you wish for healing.  You may also use them as a divination tool for chakra balancing.  Leave the stones in the bag, close your eyes and choose a stone.  Then focus & absorb healing and balancing energy on the chakra chosen.
Each set is different and beautiful unique!
These Chakra Rocks! come in a white organza bag with a brief description and instructions for uses.
The sets are $20 for the small set & $25 for the large (plus tax, shipping & handling).  The Ohm Sunburst stone is sold separately for only $7 ea.
Please allow 2-4 weeks for delivery.  You may also be able to arrange to pick them up in Rochester, NY.