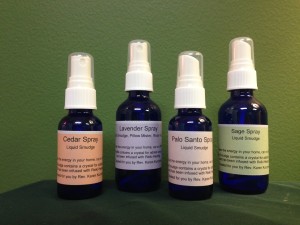 Spray smudge or liquid smudge is used the same as a dried smudge bundle except that they can be used in spaces that a smoldering, smoking bundle cannot.  Use them to clear the energy in your home, office, hotel, car or any location that you live or work.  You simply spray the smudge around the room with your personal powerful intent of clearing that space.  You may say a prayer, mantra or even a poem that magnifies your intentions.
The smudges that I make contain several ingredients to purify and clear energy.  All ingredients are safe and natural and I use only high grade therapeutic essential oils.  Each bottle of smudge contains a crystal to add to the clearing properties and I charge each with Reiki healing energy.   The smudges are hand mixed individually with care and purpose.  These sprays have been packaged in beautiful cobalt blue glass spray bottles.  Once empty, contact Karen for a discounted refill!  Reuse is healing to the Earth!
Smudge sprays are not for internal consumption and though only high grade, safe ingredients have been used, should be kept out of the reach of children and pets.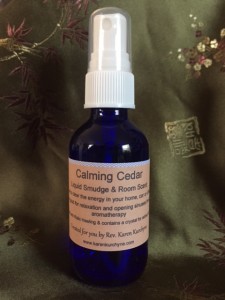 Calming Cedar is purifying, calming and has been used in traditional medicine as well as some Tibetan incense. 2 oz for $16.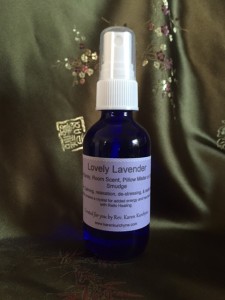 Lovely Lavender is gently calming and relaxing.  It is great for children's bedrooms & offices.  It can also be used as a pillow mister for a restful night's sleep.  Just lightly spray the pillow a few minutes before going to bed and allow to dry. 2 oz for $16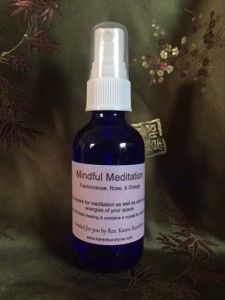 Mindful Meditation blend is used to ground, center and breathe to prepare for meditation, prayer, silent thought or to de-stress.  2 oz for $16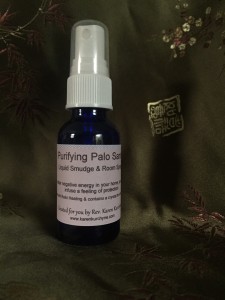 Purifying Palo Santo is purifying and cleansing of negative energies.  It blesses and releases negativity.
1 oz for $16 (Palo Santo is a harder to resource and therefore, more expensive oil)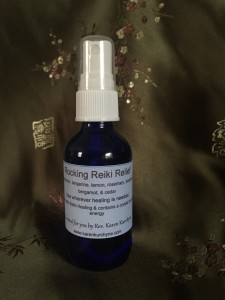 Rocking Reiki Relief blend can be used anywhere healing is needed. 2 oz for $16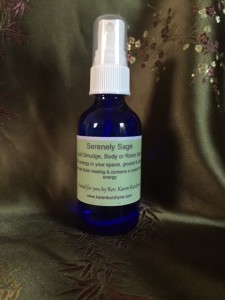 Serenely Sage has been traditionally used for healing and clearing of energy.  Use as a body spray right before bed for a great night's rest!  2 oz for $16
All of the sprays may be used to beautifully, gently and naturally scent any room at home or office, as well as your car.  Sprays may also be used as a body spray.
All pricing plus shipping, handling and tax.